India's new prime minister, Narendra Modi, has walked into storms of praise and protest on his first official visit to the US, attracting both a sold-out crowd for a speech at Madison Square Garden and a lawsuit from a human rights group which is attempting to hold him ultimately responsible for a massacre of Muslims in 2002.
"We have to take a stand for what is right, while we have to watch Modi and Obama shaking hands," Gurpatwant Pannun, a human rights and immigration lawyer based in New York, told the Guardian. Pannun has with other activists has formed a group called Alliance for Justice and Accountability, which intends to picket Madison Square Garden before Modi appears there on Sunday, and to organise protests outside the White House on Tuesday. The group alleges Modi bears responsibility for the poor treatment of India's Muslim and Sikh minorities.
Modi's trip to New York was supposed to be an uninterrupted triumph, from an address to the United Nations to a rock-star reception at a venue better known for hosting music and sports events, to dinner and a meeting with President Barack Obama at the White House – all while promoting India as a ripe investment opportunity.
But the group of activists has thrown a shadow of controversy across the visit by suing him in federal court in Manhattan.
The lawsuit claims damages against Modi for crimes against humanity, accusing him of at least failing to prevent the deaths of more than 1,000 Muslims at the hands of Hindus during a sectarian riot in the Indian state of Gujarat in 2002, where he was chief minister at the time.
Modi has denied any role in the violence, and India's supreme court said there was no case to bring against him. Suspicions over his role were strong enough for the US to refuse him a visa in 2005, but when it became clear he would become prime minister, it was made clear there would be no issue with travel to the United States.
"When [Modi] was in charge of the state of Gujarat he gave an open hand and an open field to the hunting down of Muslims," Pannun said, "with many killed, hundreds of thousands of women raped and more than 10,000 injured. And now he is getting the red carpet treatment from the US."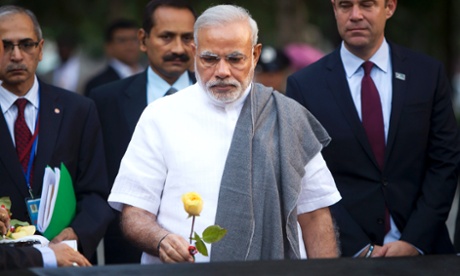 Pannun has joined forces with Joseph Whittington, a local councillor from Harvey, Illinois who became involved on behalf of his large constituency of Indian Americans, many of whom survived the 2002 massacre or have family members who were killed in the riots.
Experts say the lawsuit has little chance of success, as similar ones against other leaders have failed in the past. Such cases have, however, become potent symbols of protest.
Pannun and Whittington's alliance may cause a public kerfuffle in New York or Washington as they try to get the lawsuit papers served on Modi. They are paying professional lawsuit "servers" and offering a $10,000 prize to anyone who can get close enough to the prime minister to hand him the papers. This could, however, prove a challenge.
Security around Modi and all world leaders attending the UN General Assembly in New York is intense – Modi is being guarded by a full US secret service contingent as well as his own bodyguards.
"Security is very tight. It is not legally permitted to serve a lawsuit on Sunday so our best efforts are concentrated on trying to serve these papers on Saturday or Monday," said Pannun.
Modi's speech at Madison Square Garden was sold out many weeks ago, with the vast majority of the 18,000 seats being allocated by lottery. His speech will be broadcast live in Times Square and at special screening parties set up by Indian American groups in the US and Canada.
Modi visited the 9/11 Memorial and Museum on Saturday morning, having met New York mayor Bill de Blasio on Friday.
Modi has enjoyed celebrity popularity in India since his BJP Hindu nationalist party won a landslide victory in the Indian elections this summer. He quickly condemned a recent spate of brutal gang rapes that highlighted the endemic lack of safety for ordinary women in India and also called for a radical improvement in sanitation.
Keen to attract investment to India, he is meeting business leaders while in the US.
On Saturday he made his maiden address to the UN, in which he warned that no nation was safe from the threat of terrorism linked to Islamic fundamentalism, and said he wanted talks with Pakistan over the disputed Kashmir region to take place "without a shadow of terrorism".
Last month, India withdrew from planned peace talks because of plans by Pakistan to consult Kashmiri separatists. On Friday, Pakistan prime minister Nawaz Sharif used his address to the General Assembly to blame India for the collapse of the talks.
Modi also used his speech to call for the UN to adopt an International Yoga Day.
"Yoga should not be just an exercise for us," he said, "but it should be a means to get connected with the world and with nature. It should bring a change in our lifestyle and create awareness in us, and it can help fighting against climate change."
On his personal Twitter account, Modi posted a picture of himself being cheered by New York crowds.
"A big thank you for the warm welcome in New York! Deeply touched," he said.